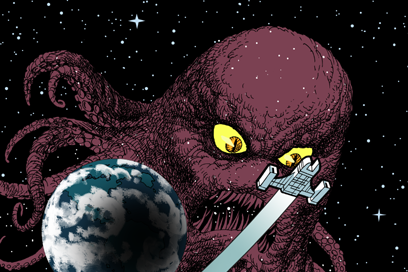 A few days ago, based on some advertising on
ENWorld
, I picked up
Choice of the Star Captain
 for the Kindle Fire ($2.99). Well, okay, first I played the first three chapters for free on the Choice Of Games website. I enjoyed
that
 enough, with its combination of
Paranoia
-like humor in the character of Lloyd - your ship's AI, who really kind of hates you - and actually-paranoid suggestions offered in the choices along the way, that I picked it up.
So, the basics. Choice of the Star Captain is a choose-your-own-adventure game with ability scores and ship stats, as well as a cash total that acts as a score-keeping mechanic. The determination of character name, ship name, and ability scores comes about through declarations that the game invites you to make about your character. In the playthrough I just finished, for example, I had very good Engineering and very poor Bravado, and everything else was somewhere in between. It's not entirely obvious to me where in the game my Bravado stat might have been tested, but a number of Engineering tests are rather more obvious. Completing missions in the course of the story also allows you to upgrade your ship; it's even less obvious how these upgrades change your game experience, but I don't think I was ever penalized for failure.
Along the way, the game asks the player to make a series of choices: some of them whimsical, but mostly quite serious, contrasting with the characters and setting, which range from semi-serious to quite silly. (Your AI, after all, is named Lloyd.) I didn't find this contrast off-putting, though. In much the same vein as, say,
Erfworld
(among my favorite webcomics), a silly setting with a serious plot somehow
works
, convincing me as a reader to take it seriously while remembering to smile. (But I'm told that my sense of humor is calibrated differently from other humans.) There's even a TV Trope for this, but
there are rules
about
linking to TV Tropes
.
The game goes by pretty quickly; I believe Kainenchen played to completion in a single sitting. There are a number of choice points that I really want to go back and see, though - replay is definitely a thing here, as with any choose-your-own-adventure.